Six of us decided to take off for the weekend and have lunch on Friday Nov. 23rd 2012 at this most exquisite place, certainly the best restaurant in my experience. The room is airy and calm, built around a central triangular glass atrium of birch trees, with the tables set far apart from each other, and additional privacy being provided by the movable furniture used to store things like menus, plates and glasses but acting like discrete room dividers, without cutting up the space. One feels comfortable at El Celler, there is no rush and everyone who works there is tuned into making your stay pleasant. The service is perfect, available when you want it to be and always ready to explain in detail what you are eating. Davide was our waiter, as he had been for our last visit in 2008, when El Celler strangely had only two stars. We all opted for the 165 Euro Menu Festival.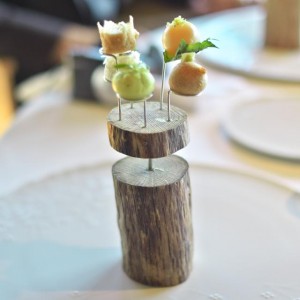 Unlike eating at El Bulli, with all the basic flaws that I listed in a blog review back then (basically: monotonous mushiness of all dishes, complete lack of consideration for wine, fundamental errors in the balance of tastes, manifest desire to mask out any taste associated with the ingredients), eating at El Celler is a precision affair. The techniques pioneered by Adrià are used here not to make the ingredient's taste disappear, on the contrary, tastes are exalted and therefore Joan Roca uses prime local seasonal produce. Instead of making mushy or explosive or simply acrid morsels to shock a jaded decadent bourgeoisie like the master of Cala Montjoi, Roca keeps everything under control and always perfectly delicious and varied. In addition he develops a kind of narrative about an imaginary world tour, exploring the intricate relations between the local Mediterranean traditions and the many exchanges that happened throughout history between the Mare Nostrum and many faraway places. He is aided by his brothers, Josep, a brilliant sommelier with an interest in all wine (and not just Spanish), and Jordi, a pastry chef of incredible talent.
The pleasure of the food is augmented by that particular Spanish habit of selling wine at reasonable markups, typically half the price with respect to their French counterparts. Thus one can be a little more adventurous with the wine selection, without having to worry too much about the budget. In this case we started with a screamingly good wine from Burgundy, a 2008 Chassagne-Montrachet Premier Cru Boudriotte by Domaine Ramonet at 63 Euro. At the same time, in preparation for the later meat dishes, we had the sommelier open a 2007 Volnay Premier Cru Les Caillerets by H. Boillot (90 Euro).
It all began with pre-appetizers, and the first one was visually stunning and really deserves a prize, a wood and steel sculpture representing the world and carrying 5 teaspoon-sized spheres in orbit:
• Mexico (guacamole, tomato seed, tomato water and coriander),
• Peru (ceviche bouillon),
• Scandinavia (a white ball of frozen yoghurt, radish, dill and radish flower),
• Morocco (almond, rose, honey, saffron, ras el hanout, goat yoghurt), and
• Japan (miso, dashi cream, nyinyonyaki tempura). Each bite is a different temperature, consistency and taste.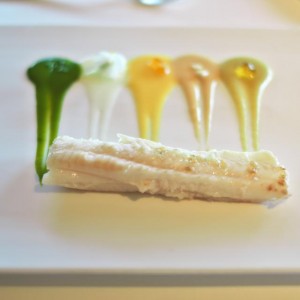 This spectacular overture was followed by 6 more mignardises:
• caramelized olives, served hanging from a bonsai olive tree, each person gets to pick two,
• crunchy fried fish,
• a sphere of Carpano vermouth with grapefruit and black sesame,
• a bite-sized artichoke omelet,
• a white Alba truffle bonbon, and
• a white truffle brioche.
Needless to say, by then the bottle of Chassagne-Montrachet was half-full, but to us it was looking dangerously half-empty, and we had not even begun the meal proper, this was just a lot of pre-appetizers… so we took out insurance with another white, a Condrieu 2005 by Gangloff at 90 Euro.
The meal per se began with 3 appetizers based on ingredients from the Catalan countryside:
• green wheat with smoked sardine, grapes, olive oil toasted bread ice cream and yeast foam,
• Olivade – mousse of sharp gordal olives, a fritter of black olives, an ice cream of manzanilla olives, toasted bread with olive oil, fennel jelly, mountain sorrel jelly and picual olives,
• white asparagus Viennetta,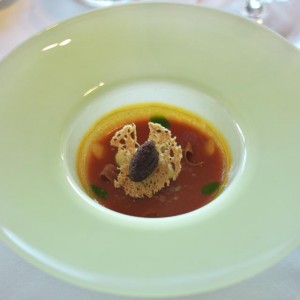 The green wheat dish was remarkable, with many brilliant variations around the theme of bread, with the added pungency of a taste previously unknown to me, green wheat. The Viennetta looks exactly like the infamous industrial Viennetta ice cream, except that this one is made with real milk and asparagus; it helped clean the palate in preparation for 4 seafood dishes:
• lightly poached oyster served with a hollandaise sauce flavored with roast venison juices;
• grilled prawn served so that you eat every part of it, the head juices served with seaweed, sea water and a plankton cake;
• sea bream with endive, gentian flower and citrus;
• cod brandade with braised cod tripe, cod foam, olive oil soup, onions, honey, pepper, thyme.
It became clear that Roca was bringing us on a food trip around the world. We began with a supersonic two-minute flight around the world stopping in America, Northern Europe, Africa and Asia, followed by a tour of Catalunya's hills leading to a tour of its fishing villages.
At each stop there are hints of themes to come, just like in a symphony, where the themes of later movements may be preannounced with hints during the ouverture or the earlier movements.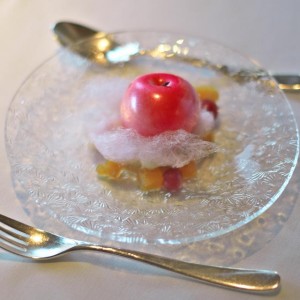 The brandade is a significant moment in the composition, its whiteness and the traditionally Scandinavian origin of dried cod tie in with that frozen yoghurt ball we had at the very beginning. For centuries, imported dried cod was a staple for traditional cooking around the Mediterranean, so the connection is perfect. The earlier green wheat dish featured a smoked sardine, again hinting at the deep Mediterranean plunge to come, and reflecting the "mar i muntanya" (surf and turf) tradition of Catalan cooking.
We had not quite finished the Condrieu but our Volnay had been quietly aerating and was in perfect form for the 3 meat dishes:
• Blanquette of Iberian suckling pig with Riesling
• Red mullet cooked at low temperature
• Ventreche and thymus gland of lamb grilled on a wood fire with aubergine, coffee and licorice.
• Wood pigeon liver and onion with caramelized nuts and curry, juniper, citrus zest and herbs
In conclusion, 3 desserts:
• Candied apple from the Gerona fairs
• Milk chocolate soup, butter ice cream, praline cream, chocolate caramel
• Maple syrup cream, pear, hazelnuts and cardamom
We left with the confirmation that the Rocas have elevated their art to a stunning level, while preserving the simplicity of the family roots of their cooking experience. My friend Jean Paul Barrilade has confided that he loves this place so much, he has booked it for his birthday every year until he dies. That's what Roca cooking does to you!