On Wednesday evening February 18 I met Joan Gómez Pallarès to discover this incredible laboratory of wine and taste sensations, certainly unique in this world, called Mon Vínic (c / Diputació 249 Barcelona – Eixample, +34-932726187) – in Catalan, "The World of Wine". Surprisingly not very well known, despite the level of ambition of the project and the huge investment required, it is a sensational place for wine lovers, made magical by:
• its rich collection of wines, thousands of bottles from all over the world, including some very old Malaga bottles reaching back to 1795, all available for tasting or meals at prices barely above what you pay for them at a wine merchant's, even those that have rested in the cellar for a few years (aging is free!).
• its incredible architecture all in wood, concrete and stainless steel signed Alfons Tost,
• the documentation center, a library of books and magazines about wine from around the world, with several terminals to connect to the internet or the place's wine database.
• the extraordinary competence and kindness of its sommeliers under the leadership of César Cánovas and Isabelle Brunet,
• the creativity strongly rooted in terroir and tradition of chef Sergi De Meià, whose dishes may be enjoyed in the "culinary space", where some forty guests can be seated at two long white tables to enjoy their meal, with wines selected for this incredible cellar by means of touch screens on tablet PCs that provide access to the cellar's database, including photos of the labels, information on the winery, etc..
• the selection of wines by the glass or half-glass: every day fifty labels are available in the restaurant or at the wine bar for ridiculously low prices.
• the class or conference room, used as a tasting workshop space
• the wine bar, a relaxing place for tasting wine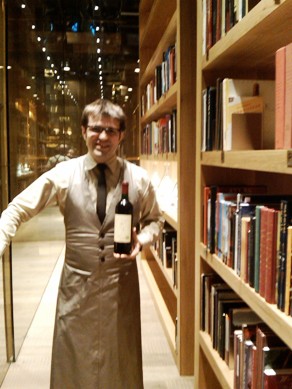 César Cánovas welcomes us with a guided tour of this wonderful place built around a miraculous cellar created to represent the extraordinary richness and diversity of wine, that product of vitis vinifera grapes that can assume so many incredibly different forms, from the sweet noble rot wines of Northern Europe to the important growths of Burgundy to the great Canadian ice wines to fortified sherry. The association of " Amics de Mon Vínic" allows members free access to these spaces.
This place grew out of the ideas of Sergi Ferre-Salat, CEO of a local major pharmaceutical company. We can not say that Mon Vínic follows the rules of a normal commercial activity, I think it is rather a case of patronage and passion. This logic extends to the marketing of Mon Vínic: there is none! This explains why, during this week when Barcelona is invaded by 50,000 visitors to the Mobile World Congress, when it is almost impossible to find a table at a restaurant, this place is still serenely quiet, a few regulars are in the wine bar and in the restaurant there are about fifteen guests. At the weekend it remains closed – too bad, I would have taken my wife Catherine to experience it…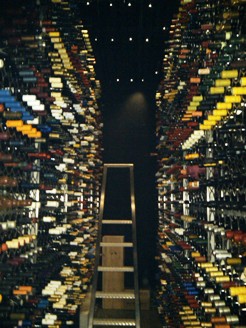 By mutual agreement, the evening will be almost entirely in Catalan, a good opportunity for me to practice what I have learned after a few weeks of study…
After visiting the kitchen, we sit at one of the two long tables and we immediately get a little appetizer of chickpeas, thyme and black pudding, accompanied by a glass of Reichsgraf von Kesselstatt, Scharzhofberg, 2006 Riesling, extraordinary Mosel riesling from the legendary Scharzhofberg vine, the one that this winery shares with Egon Müller, and available here by the glass for… 5 €.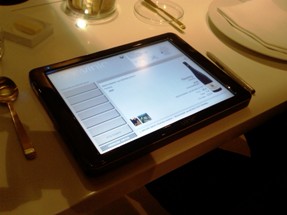 The evening menu is displayed on the wall by a projector. We choose to start with Amanida of Carxofa I Pernil ibèric – the famous Joselito iberico ham with artichokes prepared in two ways, boiled and pickled. Riesling gains nothing from the confrontation with artichokes, proving once again one of the few dogmas about wine: it does not like artichokes (but maybe a sherry or a structured rosé from Bandol?). Oh well, I'll just have to drink the wine with the ham … I have to say objectively, as an Italian living in France, the best ham of this peninsula has no equivalent in Italy or France … even the best culatello must bow in front of perfection…
We continue with Pèsols amb tòfona I cansalada – young green peas with truffle and pork bacon, with Zarate, Rias Baixas, Tras da Viña, 2005 Albariño, excellent Galician wine with good balance and a taste of tropical fruits and herbs.
As a main course we take a Peix de llotja amb verdures I bolets – generous portions of market-fresh Saint Pierre with mushrooms and vegetables and a glass of Barbadillo, Manzanilla en Rama, DO Jerez, Saca de Otoño 2007. This wine is extraordinary, it is a Fino sherry from Sanlúcar de Barrameda, therefore entitled to the descriptor "Manzanilla", in addition, "in Rama" means that it is bottled directly without filtering and without stabilization, thus bringing with it a bit of the magic "flor" lees responsible for creating the very special taste of these wines. This is even more intense than Vin Jaune from the Jura and three times more powerful in the mouth, a real explosion of concentrated aromas of smoky hazelnut and almond that demands to be accompanied by very tasty dishes.
There is no room for dessert, except maybe in liquid form, a chance to make another step in the discovery of this vast world of southern Spanish wines, with a sweet 1979 Toro Albalá, Pedro Ximenez, DO Montilla Moriles, superb expression of this grape with scents of coffee, chocolate and dried raisins. The value for money of sherry wines and its nearby cousins is among the highest of any wine, thanks to the fact that they have managed to remain immune from parker-induced speculation (but for how long?), and helped by the fact that they are indeed an acquired taste, and a very rewarding one.
The total, with tips included, 60 € per person.
Mon Vínic is a place of learning and popularization of the pleasures of wine that has no equivalent in the world. Thank you, Joan, for this beautiful discovery.