Tuesday evening 17 February 2009 is the second gastronomic stop of my stay in Barcelona. Rosal34 (c/ del Roser 34, Barcelona – Poble Sec, +34-933249046) is the contemporary and refined tapas restaurant of Oscar Adelantado and chef Josep Nicolau. The restaurant is closed Sunday, Monday noon and holidays.
Sitting in this beautiful modern room, we start with a series of three tapas to share:
Tàrtar de tonyina amb soja, mostassa Antigua, ous de salmó i fulls verds – a tuna tartare with soy, mustard and salmon caviar, spicy and tasty
Mozzarella i tomàquet sec italià – mozzarella and sundried tomatoes, fairly simple and lightweight
Cecina de Lleó amb formatge Idiazàbal – dried smoked beef from the hind quarters, a delicacy from the province of León, beautiful dark red thin slices served with basque Idiazábal ewe's cheese, which I find similar to Pecorino di Pienza.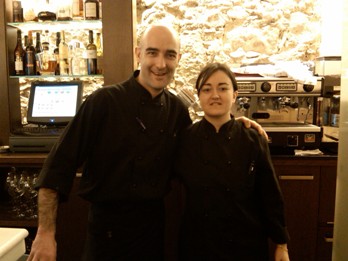 As a main course I choose the " Saltejat de xipironets de plancha amb bolets de temporada i ou poché ", a layer of tiny squid covered with a layer of trumpet of death (aka horn of plenty or black chanterelle) mushrooms and topped with a poached egg. Wonderful dish, the egg binds well with the other two elements, mainly the mushrooms, smoothing out their smoky aroma. A delight.
Finally, a plate of Stilton cheese, Manchego and goat.
It is worth noting the attentive and friendly service by Oscar and Eva. Prices remain at a very reasonable level, on average 50 € per person all inclusive.
Rosal34 (encore!)
On Saturday 21 February 2009 I took the occasion of my family joining me in Barcelona to try Rosal34 a second time, for lunch. The service, the menu, the atmosphere make you want to come back here…
The wine list offers a nice selection, we start with two glasses of Ferret JM, Gebre, DO Penedès 2006, a generous and fruity white, accompanying simple Croquetes de Rostit de Pollastre – roast chicken croquettes, as well as the Cecina de León and the excellent Saltejat de bolets variats de temporada – sautéed seasonal mushrooms.
For the main course we have two glasses of Hermanos Lurton, DO Rueda Verdejo 2007, dry with hints of sauvignon. My daughter chose the Jarret de xai (lamb shank), while on my recommendation Catherine took the Saltejat de xipironets de plancha amb bolets de temporada i ou poché, while I opted for Escopinyes al vapor amb fruits de la passió – steamed cockles with passion fruit, a wonderful combination, the intense iodine aroma from the cockles tempered by the fruit juice and further enhanced by the wine.
Finally, my daughter took the Coulant de Xocolata, classic chocolate dessert with the addition of mango, while Catherine tried the Crema Catalana in a version reinvented as a kind of soufflé or mousse, light and creamy. We drank a Molino Real, DO Malaga, Mountain Wine, 2006 Moscatel by Telmo Rodriguez, a young Malaga sweet wine of great freshness.
The bill came to 146 € for three persons, all inclusive. If I must find a flaw here it is a very small one, the fact of having to pay a 1.85€ cover charge per person ; it is not easy to find anything wrong in such a pleasant restaurant combining tradition and creativity, reasonable prices and an excellent wine list.