A few weeks my friend Jean Philippe Héaumé had mentioned an evening with a few friends and winemakers, tasting good wine. This sort of get-together had already happened a year ago, again instigated by Jean Philippe, the pretext being to taste a bottle of 1955 Château Rayas white sweet wine; at least 20 wines were served as "apéritif " back then… Jean Philippe is an online French wine merchant who… delivers!, each stop in his regular Tour de France becomes a "happening". His site is Absoluvins (in french).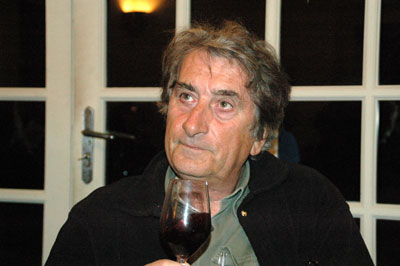 Lucien Biolatto contemplates his Clos du Mont Olivet Chateauneuf-du-Pape
Add to this the fact that the event is to be held at La Martelière, the wonderful bed and breakfast of our friends Patrick et Annick Laget, at Le Thor in the beautiful Provençal countryside of Vaucluse; impossible to resist, I reserved without hesitating.

Catherine and I arrive at 8pm, Jean Philippe is already at work, exchanging cases of wine and … pepper, on the parking area of La Martelière…
We head up to our room, then join the others for apéritif. Everyone is there:
– Patrick and Annick Laget,
– Florent Salce
– Jérôme Bressy (Domaine Gourt de Mautens, AOC Rasteau),
– Thierry Sabon (Clos du Mont Olivet, AOC Châteauneuf du Pape),
– Frédéric Arnal(domaine Arnal), Marc Gerise and François Bruschet
– Eric Sapet, a well known chef in our region
– Alain Drillat and Pierre Payet-Burin AKA « les iacchosalpins »
– Thierry Hortigue of Degustateurs.com
The 27 wines decribed below were tasted accompanied by a generous buffet prepared by Patrick and Annick: charcuterie, terrines and a really nice salad of potatoes and olives, cheeses from the legendary Vigier at Carpentras (nice chèvres, a 24-month old conté), a dessert of pears on an almond shortbread slice.
Thanks again Jean Philippe, Patrick and Annick for an unbelievable evening.
Apéritifs
**Domaine de la Bohème, Festejar, Cotes d'Auvergne sparkler – a pleasant an promising start with this wine by Patrick Bouju, very much active on our french wine forums.
***Clos du Mont Olivet, 2005, Châteauneuf-du-Pape blanc AOC magnum – Clairette, Bourboulenc, Grenache with very good acidity considering this is a southern wine.
**La Préceptorie de Centernach, ΖΩΗ, Zoé 2004 – A true explosion of fruit flavours in this very drinkable entry level wine.
***Domaine Arnal, Les Commeres 2002, Vin de Pays de la Vaunage – This is a mystery grape variety, the word cabernet is bandied around, it is in fact Marcellin (a cross of grenache and cabernet franc), very fruity.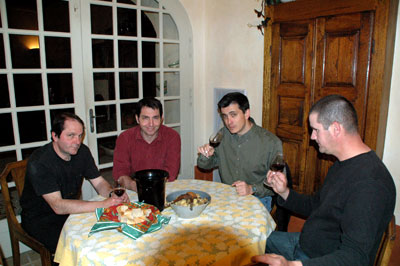 Patrick Laget, François Bruschet, Marc Gerise and Frédéric Arnal
Reds
*Domaine des Pensées Sauvages, 1999, Corbières AOC – Dense matter in a pleasant wine.
*Mas d'Agalis, Navis 2004, Vin de Pays des Coteaux du Salagou – a nice little wine.
**Domaine de Gramenon, Les Hauts de Gramenon 2003, Côtes du Rhône Villages Vinsobres AOC – Very "transparent" as most wines without sulphites, fruit and more fruit, still bery young.
**Domaine Arnal, Les Mégères 2003, Coteaux du Languedoc AOC – interesting, still young.
**Château de Cazeneuve, Le Roc des Mates 2001, Pic Saint Loup AOC – again lots of red berries and a well done oak aging.
***Clos Milan, 1999, Les Baux de Provence AOC – black chocolate covered peppered strawberries.
****Domaine Léon Barral, Valinière 2002, Faugères AOC – A mentholated mourvèdre with vigorous tannins, very promising, I like this wine a lot.
**Château Vannières, 1998, Bandol AOC – typical Bandol signature, round and a little tired, aromas not entirely clean.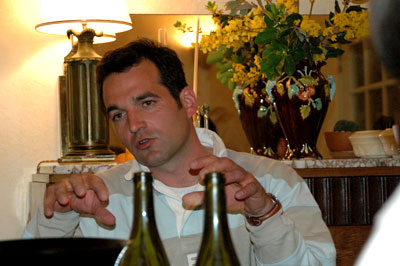 Jérôme Bressy, Domaine Gourt de Mautens
****Domaine Gourt de Mautens, 2004, Rasteau AOC – I was expecting the powerful oaked wines I had tasted a few years ago, since 2001 Jérôme has switched to bringing out finesse and elegance, here we find a superb acidity and length, this is Grenache with a little Carignan and Mourvèdre, beautiful.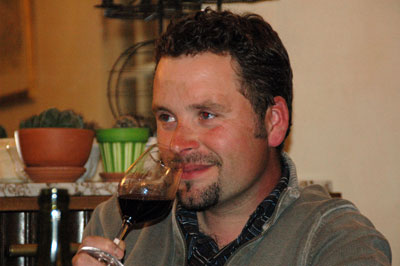 Thierry Sabon, Clos du Mont Olivet
****Clos du Mont Olivet, 1985 Magnum, Châteauneuf-du-Pape rouge AOC – Nice grenache colour, again great acidity, mentholated aromas and tar, superb. I almost guessed the year (off by one). I will not tell anyone the price of these wines.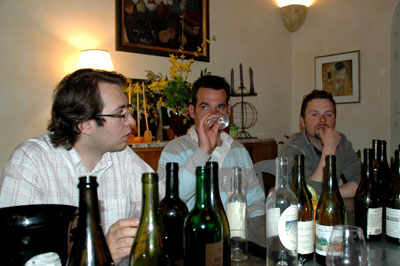 Florent Salce, Jérôme Bressy and Thierry Sabon
Whites
**Château Fontvert, 2004, Côtes du Luberon AOC – Classic vermentino aromas and white flowers.
**Domaine François Legros, 2002, Saint Aubin Premier Cru "En Remilly" AOC – Oak dominates, but one guesses that there is some good stuff underneath that wood, I would try it again in a few years.
**Domaine Mouthes Le Bihan, Pérette et les Noisetiers 2003, Côtes de Duras AOC – nobody recognizes this as being sauvignon !
**Les Caves La Liaudissaz, Marie Thérèse Chappaz, Grain d'or 2003 – Excessive oak on this dry 100% Marsanne wine, made by the swiss queen of … botrytis wines.
*Simon Bize, "Les Bourgeots", Savigny les Beaune AOC – no memory of this one, I must have passed out.
***François Chidaine, Clos Habert 2003, Montlouis sur Loire AOC – Cooked fruit, honey, still very yong, very nice.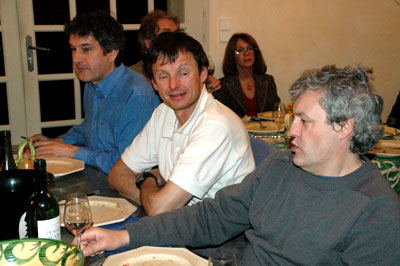 Thierry Hortigue, Pierre Payet-Burin and Alain Drillat
Sweet whites
****Selbach Oster, 1999, Wehlener Sonnenuhr Riesling Auslese – Initial typical petrol-riesling aroma gives way to a citrus explosion of grapefruit finishing on lime, superb effect, more proof that german riesling has no competition, not even from our Alsace… Tonight this wine is very expressive.
***Domaine Bellegarde, Cuvée Thibault 2001, Jurançon AOC – nice Jurançon white, citrus, acidity, discrete oak aging, very nice.
**Domaine de Souch, 2002, Jurançon AOC – pale in comparaison with the previous wine.
****Domaine Patrick Baudouin, Maria Juby 2003, Coteaux du Layon AOC – Patrick's masterly touch is evident here, superb intense balance, lemon, wax, honey, quince jelly.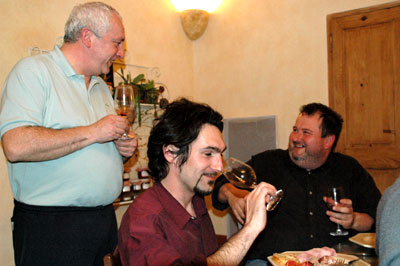 Jean Philippe Héaumé and Eric Sapet
Sweet reds
**Mas Mortiès, Tombé du Ciel 2003, Vin de Table – cooked red berries, but the tannins seems to be out ofplace after tasting botrytis wines. To be tried again in better conditions.
***Préceptorie de Centernach, 2001/02, Maury AOC – Tis is the beginning of a nascent solera, the maury brings to mind chocolate, is it real or in my head? Delicious, tannic with well integrated alsohol.
***Domaine Gourt de Mautens, 2004, Rasteau AOC vin doux naturel – Great length and red berries, tobacco.