Posted by
Mike Tommasi
on 15 March 2009 in
Restaurant Reviews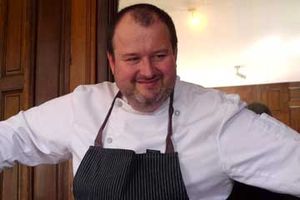 My last visit dates back to October 2007, at the time I had sent my friend Eric Sapet to the Istrian Truffle Festival in Croatia, and on his return he had prepared a meal inspired by white truffles in his then new Petite Maison. I have since tried several times to book a table, mission impossible! No wonder, when a restaurant serves such "passionate" cuisine at affordable prices, success is guaranteed.
This Saturday, I was lucky to find a table for 4. We headed for the Luberon with our friends Michael and Marie Rose, about 1.5 hours' drive, to the village of Cucuron, one of the most beautiful in Provence, with its clock tower, its walls and the immense pond on the main square surrounded by old plane trees. La Petite Maison de Cucuron (Place de l'Etang, Cucuron, 04 90 68 21 99) is right next to the pond. It is Saturday noon and Eric is conducting a cooking class on the ground floor, we happen to arrive during the preparation of a soufflé pancake.
The restaurant is small, the kitchen is only 4m2 … It is well known that to make good wine you need to keep yields low in the vineyard, but in restaurants yields can be very high, this minuscule kitchen is sufficient to treat 40 guests to a cuisine as generous, honest, tasty, creative and cheerful as its author, the dishes are always perfectly cooked and well presented, the service, thanks to Patrick and Camille, is friendly and competent.