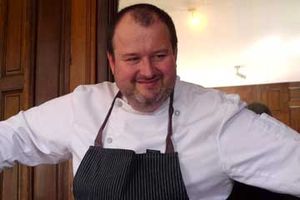 My last visit dates back to October 2007, at the time I had sent my friend Eric Sapet to the Istrian Truffle Festival in Croatia, and on his return he had prepared a meal inspired by white truffles in his then new Petite Maison. I have since tried several times to book a table, mission impossible! No wonder, when a restaurant serves such "passionate" cuisine at affordable prices, success is guaranteed.
This Saturday, I was lucky to find a table for 4. We headed for the Luberon with our friends Michael and Marie Rose, about 1.5 hours' drive, to the village of Cucuron, one of the most beautiful in Provence, with its clock tower, its walls and the immense pond on the main square surrounded by old plane trees. La Petite Maison de Cucuron (Place de l'Etang, Cucuron, 04 90 68 21 99) is right next to the pond. It is Saturday noon and Eric is conducting a cooking class on the ground floor, we happen to arrive during the preparation of a soufflé pancake.
The restaurant is small, the kitchen is only 4m2 … It is well known that to make good wine you need to keep yields low in the vineyard, but in restaurants yields can be very high, this minuscule kitchen is sufficient to treat 40 guests to a cuisine as generous, honest, tasty, creative and cheerful as its author, the dishes are always perfectly cooked and well presented, the service, thanks to Patrick and Camille, is friendly and competent.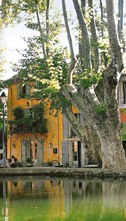 I consult the wine list while enjoying a surprising little starter, a carrot velouté with turmeric and pistachio oil with spring onions. The wine selection is very good and prices are reasonable, finally a place in Provence where you can enjoy wine! To name a few: in Champagne, Roederer, Ruinart and our friend Francis Boulard; also Dagueneau, Dauvissat, Raveneau, Henri Milan, Jean Thevenet's Domaine de la Bongran, Beaucastel, Trevallon, La Janasse, Pibarnon, Luc Baudet's Mas Neuf, Gauby. Also a lot of local wines that I am curious about, for example, I spy a bottle labeled "Hocus Pocus" being prepared for service, apparently a very small cuvée from a local winemaker.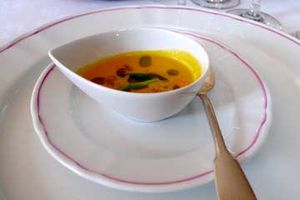 Our choice is Clos Syrah Leone 2002 from the Domaine de Peyre Rose of Marlene Soria, one of the top wineries in the South of France (in the same category as Clos des Fées and Grange des Pères). This powerful syrah is superbly balanced, for two hours it evolved continuously from a strong black fruit perfume to an explosion of spices, with a beautiful roundness. At 80 €, this wine is priced in the restaurant barely above a wine merchant's price, and there is no charge for aging…
The Menu de la Maison at 40 € (salmon tartar, stewed lamb, coconut ravioli) would have been fine; not being a fan of coconut we thought about the Menu de Saison (60 €), but 6 courses seemed too much… No problem, we are told that if we skip the cheese and the monkfish we can have a light version of that menu for 40€. At this price, we are talking about value for money in line with my recent discoveries in Barcelona, and unthinkable for a star restaurant (Eric has just been awarded his first Michelin star).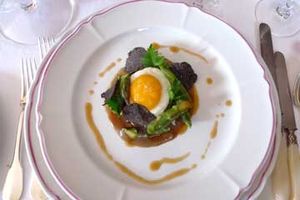 We begin with early local asparagus and late melanosporum truffle, fried egg and chicken sauce, a successful combination of winter and spring produce mediated and bound together by the egg and the sauce, the grassy asparagus flavor rounded out by the egg and the scent of truffle. The wine is powerfully aromatic and has no compatibility issue with the asparagus, the truffle scent goes well with the subtle earthy flavors of the wine.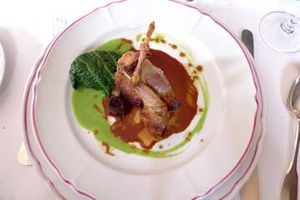 We continue with roast pigeon breast, thigh ballottine with foie gras, stewed new turnips with coriander, cabbage stuffed with offal, simply superb. The turnips are remarkable, slowly cooked and reduced to a fraction of their size, shaped and colored like miniature cannelet pastries. The stuffed cabbage is delicate and creates the right texture contrast with the pigeon, very tender yet crispy on the outside. The stuffed thigh is wonderful – just how does one debone an object so tiny, then stuff it with foie gras? Catherine's favorite dish is pigeon, she confirms that Eric Sapet's ranks right up there with the one she experienced at Fulvio Pierangelini's Gambero Rosso.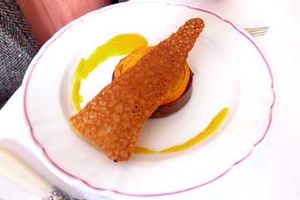 For dessert, chocolate tart with stewed tangerine, bitter orange sorbet and a tuile with cocoa nibs. The tuile is crunchy, the chocolate creamy; the tangerines seem to be a little too present, but this may be just my personal taste. We match the chocolate to two shared glasses of 2003 LBV Porto by Ramos Pinto and a wine from the Montilla Moriles area, a Pedro Ximénez Viejo Dulce "1927" by Alvear. Two definitely different styles. The Porto seemed to demand a darker chocolate, I think the Andalusian wine went better, with its hints of cocoa and raisins.
To end the meal we get a tangerine mousse and a small cup of caramel panna cotta, a panna cotta the way it should always be made, and not comparable to the gelatinous mass that is served under this name elsewhere.
Eric Sapet is far removed from the "verrines" and mousses that every trendy restaurant is serving now (and yet Eric in a previous life had made us some fabulous verrines). Eric Sapet's cuisine is all about long cooking times at low temperature, precision and subtle balance in combining ingredients and spices, and the use of top local seasonal produce. When Eric asks you whether you liked your meal, it is not a routine question, he really wants to know what you think. It's very good Eric.
Strengths: welcoming atmosphere, the use of high quality local products, precise cooking, the choice of wines and their prices, the environment.
Weaknesses: the fact that it's too far from home to eat there every week.