Getting a reservation at the Sant Pau (c/Nou, 10 – E-08395 Sant Pol de Mar – Catalunya, Spain – T: +34-93-7600662) is not an easy matter, this three-star dining room only has 9 tables. Catherine and I travel frequently to Catalunya, my parents live in the Baix Empordà area; the region is also one of the earth's true hot spots for star chefs: within 120km of Sant Feliu de Guíxols, that useful tyrant known as the Red Guide has identified 38 one-star eateries, 2 two-stars and 3 three-stars! While I can only describe my experience at super-legendary elBulli as "interesting", a recent visit to El Celler de Can Roca proved to be one the most memorable and perfect lunches of my life. Sant Pau is very different from Can Roca, and yet both share the same extremely high level of taste, precision, service as well as culinary culture and intelligence.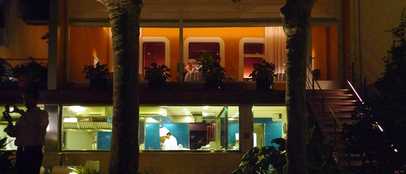 Most Catalans in the know, like my friend blogger Joan Gómez Pallarès, will tell you that Carme Ruscalleda has been the top chef in Spain for some time, despite her only recently getting that third Michelin-macaron. Only two women in the world have been awarded three stars, the other is Anne-Sophie Pic in Valence, France. Carme also has a two-star restaurant in Tokyo.
My interest in Carme Ruscalleda did not come from the guides: two years ago I purchased her book "Cuinar per ser feliç", it was a way to get into reading Catalan, and I liked the title "Cooking to be happy". The book's introduction reveals much of her attitude towards cooking – healthy, natural, pleasant eating adapted to our modern fast environment, where parents work and children are busy with school and activities. Carme Ruscalleda believes that food can make a difference, making us happier and helping us perform better in our work or our studies. Her book is a compendium of quick recipes based on fresh market ingredients and tradition, food that will be a constant reminder of which season we are in. It is the only recipe book I have ever seen that is organized in four chapters, one per season – this is no trivial innovation, it makes perfect sense!
At Sant Pau the highly complex menu requires many technically skilled and highly trained cooks to prepare such wonderful dishes, but much like her book recipes the basis is seasonal market fare grounded in local traditions, occasionally borrowing from some more distant traditions.
The first impression on arrival is the sharp yet warm design of the dining room, in ochre and fuchsia colours, and the limited seating: no more than 30 other guests are sharing the room with you.
We have an option to order à la carte or the Menú degustació d'Estiu, which is a tasting of many of the house specialties including an introductory broth, 4 small appetizers, 5 entrées, one main dish, a cheese selection, 2 desserts and a final assortment of 10 miniature desserts. The total price per person is 144€.
Given the range of tastes and the number of courses, I asked the sommelier, Joan Luis, for help. He suggested a selection of 9 glasses of wine to match the main dishes, for 54€. We decided to share the 9 glasses, given that I had a 50 minute drive to look forward to after dinner. And we agreed that for fun the sommelier would give us time to guess the identity of each wine.
CR20, Mont Ferrant (Blanes), DO Cava
We begin with a glass of cava to accompany the aperitif dishes.
CR20 refers to the 20th anniversary of Carmen Ruscalleda's restaurant, which she opened with her husband Antoni Balam in 1988. The wine comes from the Mont Ferrant winery in nearby Blanes.
El Brou de Benvinguda
A welcoming broth of yellow peppers, tomatoes, oil and water, traditional of Mallorca. A fresh light summer taste of peppers.



Els quatre Aperitius del Micro-Menu de juliol
Four micro-starters for the month of july, described in a colourful little menu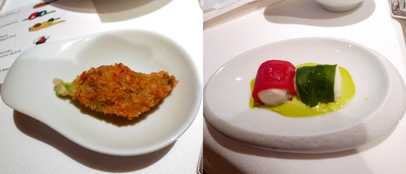 • Croquette of courgette flower
• Cod brandade, red pepper, green pepper leaf, pistachios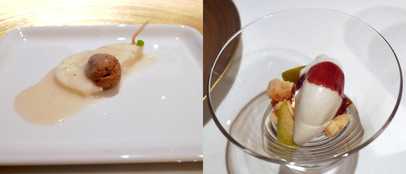 • Free interpretation of the pear of the Festa Majór of Sant Pol (pear jelly and lamb). I am not sure what the pear refers to, maybe a play on words?
• Sorbet of tupi cheese, olives, almond cake, sweet wine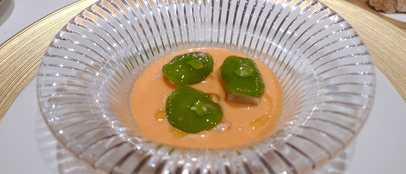 Cua de Llagostí
Manzanilla Papirusa, Lustau, DO Jerez
Caramote prawn tail, basil leaf, tomato coulis, manzanilla. These are the same large prawns that Italians call "mazzancolla" (penaeus kerathurus). Three pieces wrapped in basil leaves and held together by jelly, served over a tomato coulis with sherry. The match with a finely oxidative wine was very fine, the wine not too potent and quite well chosen to accompany both the crustacean and the tomato; based on recent sherry tastings I supposed it was from Sanlucar de Barrameda, and indeed it was.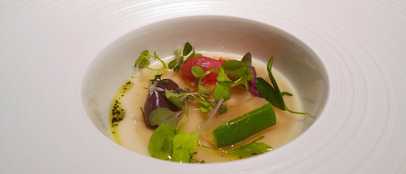 Vegetals sobre crema d'arròs – alberginia, carbassó, tomàquet, micro-fulles
Sauvignon Blanc 2008, Ra Nui, Marlborough (NZ)
Aubergine, courgette, tomato and micro-leaves on a rice cream. The vegetables stay afloat above smooth creamed rice thanks to a very thin layer of jelly.
We were sure the wine was sauvignon, very ripe, intensely grassy with some hints of lemon; very different, maybe southern French or Spanish Pyrenees? I should have known, it had New Zealand written all over it…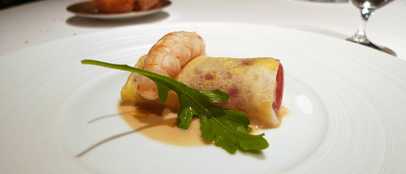 Cua d'Escamarlà – pell de truita, pa amb maduixot, salsa dels caps, ruca
Gran Caus Rosat 2008, Can Rafols dels Caus, DO Penedès (Merlot)
Crayfish tail with a thin film of omelet wrapped around a cylinder of strawberry bread compote. Great combination and a good match to this fairly simple but fruity rosé not devoid of backbone. I live in rosé country, Provence, and this was clearly from "somewhere else", fairly dark and intense.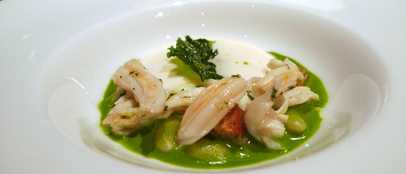 Espardenyes – escuma de naps, liquat d'espinacs, Borrego, ganxet
Lanius 2008, Alta Alella, DO Alella
Sea cucumber with turnip foam, a spinach shake and white beans. The holothuroidea or sea cucumber (stichopus regalis) has to be the ugliest animal on earth, like a giant slug with tentacles; it is a yellow blooded echinoderm closely related to sea urchins, present in huge numbers in the ocean depths. Yet when prepared by expert Catalan hands it is one of the world's great delicacies. The turnip foam and beans add a subtle texture without masking the delicate flavour of the sea cucumber.
The wine could have been a southern Burgundy, maybe the Maconnais area, a young ripe chardonnay with well integrated oak. It was in fact a local white from Pansa Blanca with some chardonnay.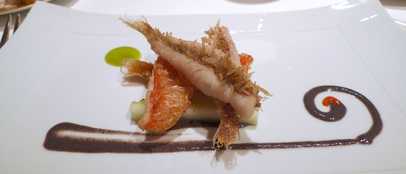 Lloritos – cogombre, salsa dels interiors, mostassa verda
Idoia 2007, Ca n'Estruch, DO Catalunya
Pearly razor-fish (or cleaver wrasse), cucumber, sauce made from the fish interiors, green mustard. The fish is cooked to perfection, the skin is so crispy you can hear it crinkle under your teeth, yet there is no sign of the flesh being seared and no trace of oil. It is reassuring to see a great chef making a great dish using a "poor" variety of fish, as opposed to the usual bass or bream. The brown sauce is not too strong and adds lots of flavour, the green mustard gives it a little zing, and the cucumber cools things down and adds texture. Wonderful.
The llorito (xyrichthys novacula) is a colourful fish that lives in the Balearic Islands but comes to the Costa Brava in july. Also known as raó, it is known in France as a "Rason" and it is called "pesce pettine" in Italian.
The wine was a dark spicy red from a warm climate, a young Cornas came to mind, but not quite as powerful. It was a syrah cabernet blend from the Montserrat mountain area.
Galta de Vedella de Girona – salsa agredolça, pa cruixent i picant amb cireres, mató i escarola
Furvus 2006, Vinyes Domenech, DO Montsant
Veal cheek with sweet and sour sauce, crunchy spicy bread with cherries, fresh cheese and endive. Incredibly, I forgot to take a picture of the main dish! The veal was tender like no other meat I have ever tasted; I believe it was cooked at low temperature for a very long time.
This young red wine had the colour of Grenache, could have been a Chateauneuf but I suspected it was from Catalunya, maybe Priorat. It turned out to be a Grenache from Montsant, not far off target.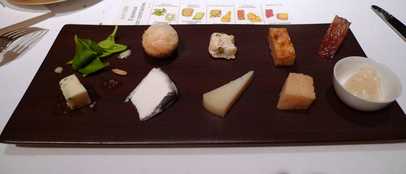 El plat de formatges de juliol
• Bleu de Gex (Franche Comté), vegetals, vinagreta de pinions (leaves, pine nut vinaigrette)
• Castilblanco ceniza (Sevilla), Magdalena de Banyuls (Banyuls madeleine)
• Idiazábal (Guipuzkoa), torré de fruits secs (dried fruit turron)
• Maó (Menorca), pudding amb fruita confitada (cooked fruit pudding)
• Torta del Casar (Extremadura), sindria amb rom (watermelon and rum)
Saint Hyppolite 2006, Gewurztraminer, Marcel Deiss, AOC Alsace
Excellent cheese plate with some superb little munchies paired with each one. I would have not put the blue at the beginning, but with the salad and pine nut vinaigrette it made a clean break from the main dish.
It was fairly easy to guess that the wine was a young Alsace gewürztraminer, not entirely dry, spicy, typical rose and lychee plus citrus, good acidity. It is impossible for one wine to accompany all these cheeses (blues, goat, aged cow cheeses, creamy ewe's cheese), but interesting to try.
Prepostres : infusió i fruta
An orange sorbet in a vinegar infusion definitely makes a neat break, refreshing your mouth before dessert. The vinegar is powerful but not aggressive, and the pungent acidity blends with the sweet sourness of the sorbet.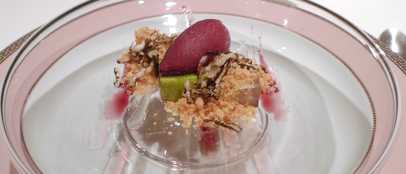 Guingueta-09 – préssec, menta, vi negre, gin, arròs, cola
Curial 2008, Mas Ferrant, DOCG Moscato d'Asti
Peach, mint, red wine, gin, rice, cola. Inspired by the local "chiringuitos", beach shacks serving food and drinks. From the description it sounds like an impossible combination of a peach Nestea, sangria, Coke and a mojito, but it works, fresh and summery, and lots of fun.
An easy guess for the wine: a Moscato d'Asti. Not entirely well matched, sweet on sweet does not work well and Muscat is so hard to match to anything, but it is pleasant enough on its own. Surprisingly, from a local Catalan wine négociant that owns a property in the Asti area.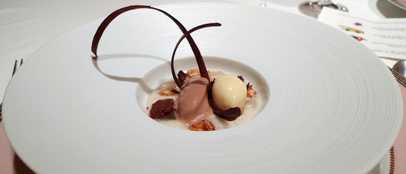 Origen Sud-Americà – cacao, cacauets, blat de moro, vainilla, iuca, Cachaça
Dolç Mataró, Alta Alella, DO Alella
Cocoa, peanuts, sweet corn, vanilla, manioc, cachaça liqueur. The South American theme works well, and I learned that manioc and vanilla originally came from America. Peanuts are one of the rare foods I do not like, but these roasted peanuts were crunchy and gave the dish an interesting accent, with all elements blending together well and creating interesting contrasts. I was not totally convinced, but the dish looked great.
The wine reminded me of Banyuls, but darker than most and with a hint of thyme. I was not surprised to discover it was a local fortified wine from Mourvèdre grapes.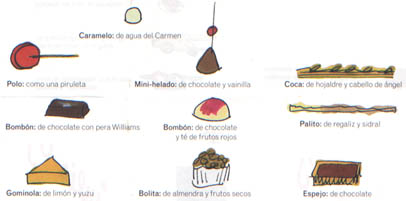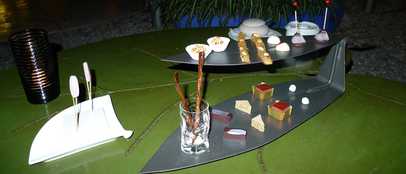 Els deu Divertiments de Pastisseria
• Caramel d'Aigua del Carme (lolly pop of Aigua del Carme, an ancient lemon balm and alcohol remedy for… hysterics)
• Polo, com una piruleta (ice lolly)
• Mini-gelat – xocolata i vainilla (mini chocolate vanilla ice cream)
• Coca de full i cabell d'àngel (pumpkin pastry sticks)
• Bombó de xocolata amb pera Williams (chocolate bonbon with pear)
• Bombó de xocolata i te de fruits vermells (chocolate bonbon with red berry infusion)
• Bastonet – pega-dolça i sidral (liquorice and fizzy powder)
• Gominola de llimona i yuzu (lemon and yuzu citrus fruit jelly)
• Boleta d'ametlla i fruits secs (almond and dried fruit ball)
• Mirall de xocolata (chocolate mirror)
Our waiter proposed that we move down to the garden to experience this incredible assortment of ten amusing mini desserts, presented on a two-storey tray. Each one is quite surprising, with a wide range of tastes and textures.
As seen from the garden, the visual impact of the restaurant is amazing; the entire front of the building seems to have been replaced by two enormous glass panes, revealing the calm quiet ochre-fuchsia dining room on the top floor, and below it a vivid green-blue kitchen punctuated by moving white chef hats (see the first photo above).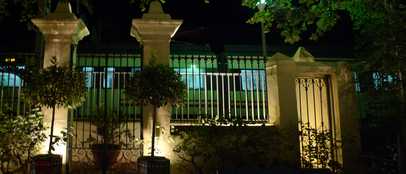 Considering the number of courses served, you get enough time to appreciate each dish fully. The pace was more or less equal to the frequency of the commuter trains that stopped every 10-15 minutes just outside the garden gate next to the beach. At the end of the meal we did not feel that we had eaten too much or too little, it was just right, and driving was not a problem either.
Carme Ruscalleda is obviously fascinated by gelatinous textures; some of the foods are mpore or less gelatinous in themselves (veal cheeks, pig trotters), others have jelly added. I heard that Carme is experimenting with jellyfish. Many of the jellies were served on warm without melting, so I suppose it was agar-agar. Her use of jellies on so many dishes could seem excessive, but they are employed sparingly and for specific functional needs: holding or floating or decorating ingredients, and generally imparting shine and texture to the dishes.
There were no other obvious uses of "molecular" techniques, though I am sure there were many high tech methods used in the kitchen; much like Can Roca, technique here is not used for its own sake, it is subservient to pleasure and bringing out the taste of all those fantastic seasonal ingredients.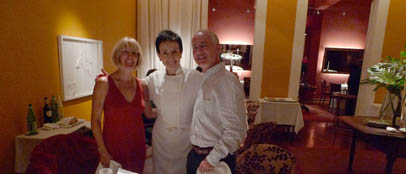 All the dishes are visually stunning, the service is remarkably competent yet easy going and friendly, the bread is very good, the setting is architecturally beautiful and comfortable, and I would say this is a truly memorable experience. Having tasted summer at Sant Pau, I feel an urge to come back to experience autumn, winter and spring with Carme Ruscalleda.