Every year TigullioVino.it, Italy's foremost wine portal, organizes a wine Meeting, a table-top event bringing together over one hundred winemakers hand picked from Italy and Europe. This year's edition, with some influence from yours truly, is called Terroir Vino, and was held at the magnificent Palazzo Ducale in Genova.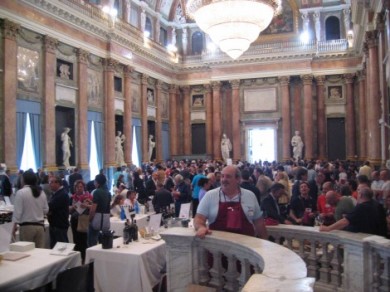 The Palazzo Ducale, photo by Luca Risso
Terroir Vino is the brainchild of my friend, web entrepreneur Fil Ronco. Participants are invited after selection in a blind tasting by TigullioVino teams, and so you get a wide spectrum of styles and sizes of winery, from the "all natural" vigneron with less than 4 hectares, to large quality producers like Lungarotti. Half the day is reserved for wine professionals (press, restaurant owners, importers), and starting mid-afternoon the event is open to the public for a nominal fee.
The setting under the gold leaf carved ceilings of the doge's palace, the perfect organization and the friendly atmosphere made this Terroir Vino day a big success. It was good to see lots of blogging and newsgroup friends, including Joan Gómez Pallarès, Terry Hughes, Luca Risso, Giampiero Nadali, Schigi, Filippo Cintolesi, Franco Solari, Fiorenzo Sartore, Mirco Mariotti, Gianpaolo Paglia, even Slow Food friends Enrico Sala and Maurizio Fava. All in all 1500 people attended.

It would be impossible to taste everything, with 130 participants each presenting 4 wines on average, that would mean tasting 520 wines. Within the limits of my saturation level, I managed to take sketchy notes on about 40 wines, I only wish I could have tasted more. Here are some highlights:
Steyer (Slovenia) was sharing a table with Joannes, and was presenting 4 wines, including a "Cuvée" 2007 of Chardonnay, Pinot Gris, Sauvignon, Riesling and Gewurztraminer under Stelvin closure. Personally I preferred their Gewurztraminer 2007, very fresh and subtle. A 2003 "Vaneya" sweet Gewurztraminer was excellent, balanced and with good persistence.
Tour du Bon (France) was there with its great red and rosé wines from Bandol, a few miles from where I live. I know these wines well, I nevertheless tried their white; Bandol is not known for whites, but the wine my friend Agnès Henry makes is surprising, with its relatively high percentage of vermentino it stands out for aroma and fits in quite well in this Ligurian setting.
Bott Geyl (France) are an exciting producer from Alsace, we got to know this very nice couple last year when I organized a tasting of their numerous cuvees here in Provence. Les Pinots is an assembly of the four Pinot grapes, interesting, but their top wine here was the Pinot Gris, an sharp fruity wine from clay limestone soil that was begging for a food pairing with fish or even pan seared foie gras.
Verus Vinogradi (Slovenia) uses Stelvin on all their wines (I can only encourage the migration from cork), this is a new winery presenting wines in the "natural" trend, very clean, including a Sauvignon with grassy freshness and a barely perceptible CO2 fizz, a Furmint, a Pinot Gris, a Muscat with a little residual sugar and surprisingly light aromas (Muscat can get heavy at times…), a mineral Riesling and a sweet Welschriesling.
Gulfi (Sicily) was presenting 2004 Bufaleffi and Maccarj, superb Nero d'Avola from old vines matured in demi-muids.
Benanti (Sicily) presentred a 2005 Nerello from Etna with a distinct mineral feel, almost salty, and a 2003 Serra della Contessa from 100 year old ungrafted vines.
La Stoppa (Colli Piacentini) was there with its red Macchiona, the 2004 very fresh and deep, the 1999 in great shape and the 1991 perhaps past its prime. They also presented Ageno, a white that has been vinified like a red (I call these "noir de blancs"), with skin contact for over a month, and therefore tannic and amber coloured due to oxidation. In my experience this wine has proven to be a truly marvelous match for food, most memorably with roast pork, but on its own in a tasting by "conventional" tasters comparing it to "conventional" whites it tends to put many people off, which is too bad. A wine that shines in the right context.
Mariotti (Ferrara), my blogging friend Mirco was there with a true extraterrestrial wine, Surlié, bottle refermented red Fortana sparkler with lots of character, not a pretentious wine but truly lots of fun.
Cascina Corte (Piemonte) is the winery run by my good friend Sandro Barosi, his 2007 rosé made using the saignée method was a pleasant surprise, and the 2006 Barbera is well crafted, with good acidity. 2006 Nebbiolo showed promise, I found the wood flavour was not quite yet folded into the wine but the wine has good structure and should be great in a couple of years.
Erbaluna (Piemonte) presented an intriguing 2003 Barolo Vigna Rocche, a powerful wine with an animal bouquet that made me wonder if that was character or brett.
Tenuta Grillo (Piemonte) made me taste his own take of what I call noir de blancs, turns out to be highly influenced by La Stoppa, macerated Cortese grapes from Campania, interesting but not quite the character of Ageno.
Emidio Pepe (Toscana) presented a vertical of his completely "natural" wines, no SO2 present, a sharp 2005, a ready to drink 2000 and a 1985 surprising for its fruitiness despite age and no sulfites.
Poggio Argentiera (Toscana): fellow blogger Gianpaolo Paglia was presenting his magnificent Capatosta, a really remarkable wine from the Tuscan coast that matures with time into something that can give the standard supertuscans a hard time, and (in joke) one of the few that could justifiably lay claim to some kind of "Maremma grand cru" status.
Podere Erbolo (Toscana): newsgroup contributor Filippo Cintolesi made me taste his Salvino in the latest two vintages, a fine wine with lots of promise.

Maria Donata Bianchi (Liguria) is a producer I like for its Pigato, the 2007 showing well with lots of citrus notes and great acidity. They also are experimenting with blanc-de-noirs, their Antico Sfizio 2007 a vermentino macerated for "only" 8 days, which in many ways improves on most long macerated whites by keeping the oxidation in check. This winery is now converted entirely to glass closures to replace cork, the result is very nice.
Buranco (Liguria) was there with its latest Sciacchetrà, one of the two great producers of this rarest of sweet wines from the Cinque Terre. Since this domaine was sold to a well known senator in Italy, I guess much has changed. The dry white Cinque Terre of recent production was interesting in that the three local grapes, bosco albarola and vermentino, were vinified separately. This makes sense as the optimal maturity time of each grape can span over a few weeks, while traditionally all three were processed together.
Alois Lageder (Süd Tyrol or Alto Adige) was the winery of the day for me, with a wonderful sharp and persistent Pinot Blanc 2007 and an equally wonderful 2004 Pinot Noir with superb balance, persistent cherry flavours and kirsch. I was less convinced by the Müller Thurgau, but I do have a bias against this grape, and Lageder seems to manage to make better wine with it than anyone else.
Le Fraghe (Veneto) also left a lasting impression with the explosive aromas and sharpness of its Garganega, a true gem made by Matilde Poggi.
The event also includes some food and olive oil producers, and I distinctly remember the blue pecorino from La Parrina in Tuscany, a cheese that paired perfectly with Vigna della Volta by La Stoppa – the cheese producer also makes wine and proposed their Vin Santo, but the cheese overwhelmed it completely.