For the last two weeks we have been traveling through Sardinia and central Italy. Our trip began with an overnight stop at the Relais San Damiàn, in the countryside behind Imperia, a very beautiful small agriturismo (farm hotel) with ample spacious rooms and a small pool nestled in an olive grove. The stop was needed because we had planned a dinner in Imperia, with friends from the alt.food.wine newsgroup: Nils from Sweden, Dale from New York, Luk and Fil from Liguria, and consorts.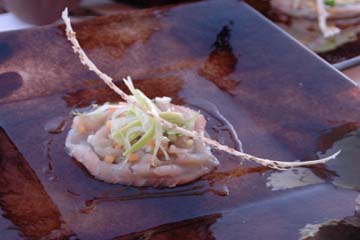 Imperia is one of those places that one would normally skip as a tourist, yet it is interesting and in many ways charming. Imperia was an invention of a certain past leader of Italy, the one with the large chin that made the trains run on time but set Italy on the wrong path; the city is actually the artificial fusion of the very large fishing ports of Oneglia and San Maurizio. Agrodolce is situated in Oneglia right on the quays, in a curious mélange of residential palaces and industry, so it is normal, while sitting at a table under the arcades, to get the occasional whiff of olive oil, fish and pasta from the nearby plants. The chef of Agrodolce is Andrea Sarri, and with his wife Alessandra he runs what I consider to be one of the best fish restaurants. Photos of some of the dishes are interspersed throughout this article.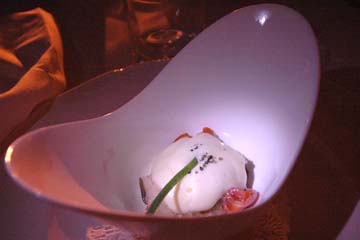 The meal was excellent as always, but the service in summer appears to be in disarray, the outside terrace gets very busy, crowded with lots of what I call boat people, so the atmosphere is far from the conviviality of dining inside, in Agrodolce's pure cylindrically vaulted white room. The dishes were mostly in top form, as you can see from some of the pictures. The night ones were taken with the help of Luk's pocket LED spotlight, which gives them a very interesting effect… I must buy one of those gadgets! Unfortunately the temperature dropped while eating outside and we had to beat a retreat indoors for dessert.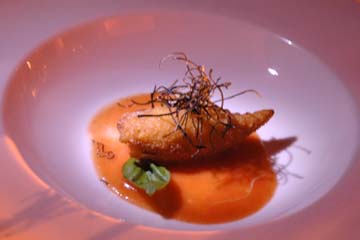 The Terre Rosse Pigato was very good. Like Provence for its reds, I think Liguria with its mastery of the minor grape vermentino has a lot of potential for whites – and Liguria is way ahead of Provence right now! It seems to me that the two regions should develop a kind of twinning around wine, Provence reds and Ligurian whites. I'll work on that…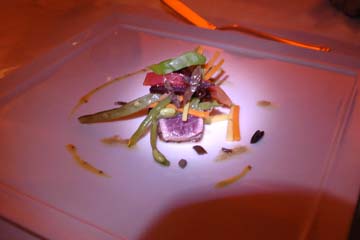 The following day (July 14) we drove along the Via Aurelia (and part of the Julia Augusta), as Cathy continued her photographic project on roman roads. By the evening we were in Genova, we went down to the port and queued the car up for the overnight ferry to Sardinia. Driving along the entire coast close to the sea reveals some interesting places, one is Laigueglia, a small fishing town we know well, but this time we noticed that Noli may also deserve a second visit.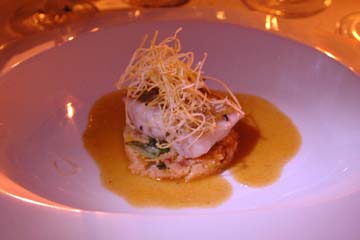 We spent a week in Sardinia with some easy going wine tastings, so easy going that we did not even bother visiting the nearby Capichera winery, at 38°C you just don't feel like it… and so we went looking for hidden beaches instead – the top one, a minuscule beach surrounded by huge rocks bizarrely sculpted by the elements, with crystal clear water and a view of Bonifacio in Corsica, right at the end of Capo Testa near Santa Teresa. We stayed at the Hotel Rocce Sarde in San Pantaleo, with distant beautiful views of the blue sea of the Costa Smerald. Even up there you can see the enormous yachts that clutter this Sardinian version of the St Tropez coast. We had stayed at the friendly Rocce Sarde in 2002 and were pleased with the half-pension, even this time the food was mostly good (consider that the "pensione" meals can be very ordinary in many hotels). A few dinner wines all from Argiolas: S'elegas from Nuragus grapes, a low priced very mellow wine nice to drink in the torrid heat ; Costamolino, a Vermentino lacking somewhat in balance and miles from the Ligurian standard. Myrtle liqueur was a big hit.
July 22 we took the ferry back to the continent, landing however in Civitavecchia near Rome. We headed east on the Via Salaria, managed to get across despite the dozens of forest fires raging throughout Italy, and settled for the night in Montelparo, in the Piceno, a beautiful area with gentle hills and beautiful landscapes, reminiscent of Tuscany minus the German and English tourists.
We stayed at Hotel La Ginestra, a very nice place with a nice pool set in a magnificent landscape, in fact La Ginestra could be truly grand. The main building where the restaurant is located, and most of the attached residences, are of traditional stone and pale brick construction, with the exception of one banal white building that sticks out like a camp dormitory right in the middle – and guess where we had our room! The room was clean but thin-walled and hospital-like, with bargain furniture not quite up to Ikea standards, and under the intense heat with no air conditioning it was even more uncomfortable. It appears that the other residences are completely different and of a different "class".
The meals at La Ginestra were fine, simple but expertly prepared, a good mushroom risotto to start was followed by an expertly roasted delicious pork shank ("stinco") , and with a simple carafe of Rosso Piceno of unknown origin it hit the spot perfectly. Breakfast was classic Italian minimalist, adequate except for the rancid butter packets. This is the kind of place that is 95% perfect, but is missing the crucial 5%… and please knock down the dormitory!
As an Italian expatriate, I can say that dessert is not the high point of Italian cuisine, so my expectations are never high, so distractedly we chose the crema catalana (serves us right!) which turned out to be neither crema nor catalana, it was vanilla pudding with two splotches of liquid caramel topped with that scourge of Italian cooking, crushed industrial amaretti cookies. I think a law should be passed to ban industrial amaretti, these horrible biscuits are made from apricot pits to simulate the taste of bitter almonds, and are further flavoured with some additive that reminds me of the noxious bitter aftertaste of artificial maple syrup; this product finds its way into many traditional recipes that would be delicious if the amaretti were left out or perhaps if they were home made – for example, in Emilia they ruin the filling of pumpkin ravioli, while in Piemonte they destroy the otherwise sublime bunet chocolate pudding.
Nearby in Petritoli we discovered an excellent olive oil from Frantoio Alfredo Agostini, at just over 6€ a litre it is an excellent deal – the same oil in Tuscany would have been 30€. After We bought 10 litres, which should last us about 10 weeks.
On July 23 we hit the Adriatic coast and took the highway to get as quickly as possible up to Fano, where we took up the roman thread again with the Via Flaminia, driving back west through the magnificent Gola del Furlo, a gorge in the Appennines with lots of Roman bridges and ruins that leads to Umbria. Again fires were threatening all around, especially as we passed close to Urbino. We spent the night at the Casa Giulia near Trevi, a very nice town that somehow we had skipped in past visits to Umbria. At Casa Giulia you get to sleep in authentic ancient rooms in an Umbrian country house, and the service is very friendly. The pool helped us deal with the intense heat.
Dinner was at I Maggiolini in Trevi, recommended by the hotel, and again I decided to go for the no-name plain carafe, the Sagrantino of Montefalco was good, young and with the help of a bowl of ice we managed to get the bottle around 26°C, which tasted very compared to the ambient 36°C… Perfect with strangozzi (pasta) al tartufo nero, and a magnificently prepared "tagliata" of veal in three versions, thinly sliced veal fillet with balsamic vinegar, with herbs and with rocket salad.
Before leaving Trevi we managed to get into the small church of the Madonna delle Lacrime on the outskirts of town, to admire Perugino's restored fresco of the Adoration of the Magi.
On July 24 we continued along the Flaminia until past Narni and there we grabbed the highway up to Chiantishire. In 4 hours we went from sub-40 temperatures to around 25°C in Chianti, and by the time we arrived at Radda we even got a few drops of rain. We had planned to stay one night at the Borgo di Vèscine, a very beautiful complex of old stone buildings tastefully converted to hotel rooms, with a very nice pool. The resort is well placed in a forested area of Chianti with a few vines, very… Tuscany. We liked the place so much we decided to stay a second night. Meals at the hotel are available, but they are expensive and very ordinary.
In the evening we headed for Castellina, our mission being to try to see if the Antica Trattoria La Torre is still operating, and if it is as good as if was during our last memorable visit in… 1991! Well, Mr. Stiaccini is still at the cash register, and his family is still cooking, so it looked promising… Don't let the hordes of tourists fool you, the food is very good and honestly and expertly cooked. Cathy took the same thing as the last time, roasted pigeon, a real treat, despite the fact that after 19 years in France we prefer our pigeon meat pink, the Torre style is great, with rich caramelized skin and well done but tender meat. I started with a ribollita – compared to previous days, it felt "cold", so why not go for a hearty soup so thick you can eat it with a fork? After driving through Lazio and Umbria and seeing so many porchetta stands along the ancient roman roads, I had a craving for the stuff, and I was lucky, because the menu proposed roasted piglet prepared in the porchetta style, delicious. We drank Montevertine 2004 and it was a treat, I thought the Pergole Torte would be overkill for roast pig, so I settled for the regular Montevertine and despite the tannin it went well, the spicy porchetta filling seemed to enhance the wine's spicy aromas, very persistent. The price was another good surprise, €60 for three people plus €30 for the wine.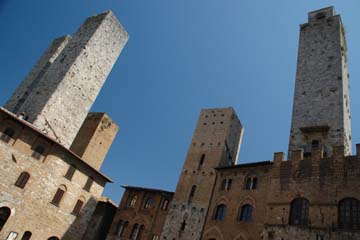 On the last day we headed for San Gimignano and for the fourth time we went to see the magnificent cathedral, with the Old Testament painted on one side and the New on the other. I wanted to show my daughter the scene from hell, an absolute masterpiece and more gory than any Harry Potter story. Tourists in short trousers are invited to cover their knees on entering the church, luckily mine are just below so this ridiculous procedure does not apply to me, but as I go in I am shocked to see paintings depicting Moses himself parting the seas wearing fairly skimpy surf-style shorts. Job is also showing some knee, and Saint Stephen is wearing nothing but standard white underwear (and several arrows). I thought of pointing this out to the guardians of the moral order, but then remembered this is vacation… To say nothing of what the demons were doing to completely naked women in Hell, including sticking animal horns in (censured)… After the visit we tried a glass of Vernaccia at a local bar, it was truly horrible… so we headed for the famous prize winning gelateria on the Cistern square, not the big one at the entrance to the square but the little Gelateria di Piazza on the short side of the square, truly fabulous ice cream, reputed to be the best in Italy. They even have a flavour called "champelmo" – champagne and grapefruit…
I was very pleased with the eating experiment that Cathy proposed for this trip: we decided to play it cool and not look up every Michelin and Slow food guide, and just follow our instincts and some local recommendations. We wanted to see if one could still eat simply in Italy without spending a fortune and get really good food. I am happy to say that I almost feel liberated from the tyranny of the guide, and while I do enjoy the occasional post-modern osteria, I get tired of the pretentiousness or preciousness that these places sometimes exhibit. Maybe there was a need in Italy during the 90's for modern terroir-conscious affordable convivial eateries, but with the new millennium you are not guaranteed the conviviality nor the affordability, and sometimes the search for terroir and creativity goes no further than the omnipresent token sprinkling of balsamic vinegar or the serving of lardo. As regards the real traditional osteria, it is virtually extinct, there are not enough of them left to keep the genre going and even those have been placed in a guide, thus ensuring their imminent destruction. But the normal good restaurant still exists and can be more friendly, more affordable, more traditional and more satisfying than the osteria concept. It is hard to explain, but while the po-mo osteria aims higher, it more often than not falls short of its food goals, while the simple restaurant can meet its own goals of consistently well prepared simple food. On that basis, it seems reasonable to conclude that when I want to eat something really special in Italy, I will skip up to the level above the new osteria and go to places like Agrodolce. Otherwise there are plenty of good things available in normal restaurants…