What is TGV Meeting? It is the annual wine fair in Liguria of TigullioVino, with 90 winemakers, mostly italian, invited to participate on the basis of decisions of the tasting committee of this leading italian wine portal. What a concept : the wine must be good ! This means that you will find both very small vignerons as well as larger wine companies, with many different kinds of winemaking, but a common thread of very high quality.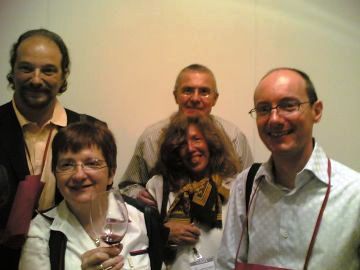 ( Bloggers Giampiero, Maria Grazia, Terry, Laura, Mirco )
This Meeting is also the occasion to meet the movers and shakers of the enoblogosphere. The day before I had already met Giampiero Nadali (AKA Aristide), Mirco Mariotti (alias Blog&Wine) who actually makes wine near Ferrara, and Terry Hughes (alias Mondosapore) who had just arrived from New York.

Everyone had met at the country place of Luca Risso (who is the main contributor to the italian edition of this blog). I arrived late and almost missed Claudia's wonderful cooking. All this is taking place in Carro, in the Val di Vara just behind the Cinque Terre.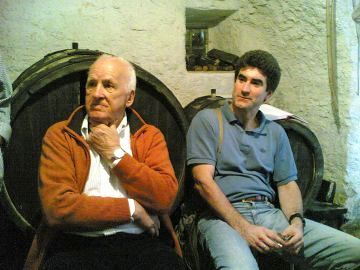 ( Luca Risso meditas on the wines of Montale )
After lunch, Luca proposed a visit to the town of Montale, where a bunch of winemakers are keeping alive a local tradition of growing albarola, bianchetta and buttiggiasca grapes, and making wines "the old way". Rustic and with a flavour of apples, these wines are what is known in Italy as "vino del contadino", the farmer's wine. The vines grow on a trellis of chestnut poles. In a minuscule cellar, we sit around for an hour with the winemakers who are obvioously proud to share a few joyous glasses with us. The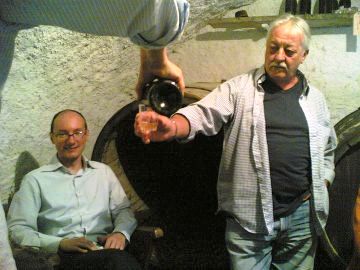 ( Mirco watches his Duralex glass being filled )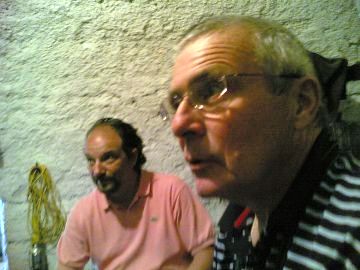 ( Giampiero and Terry at Montale )
By sunday evening we headed back to the Ligurian coast, but I felt that we just could not skip the occasion of dinner, even a frugal one, at Franco Solari's (alias Francone) Trattoria dei Mosto at Conscenti. I enjoyed my gnocchetti di bottarga, Terry and Laura had ravioli and minestrone, Giampiero had no room left after lunch, and we could not even finish a bottle of the excellent Vermentino by Ottaviano Lambruschi (Colli di Luni).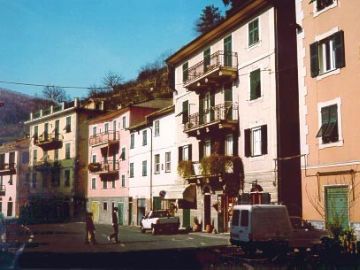 ( Franco Solari's Trattoria dei Mosto in Conscenti )
Monday morning we head for the great hall at the Excelsior Hotel in Rapallo in order to sample this fine selection of wines that Filippo Ronco presents to us each year. This is where the big difference lies between this fair and any other that I've been to : the participants are invited by a tasting committe of Tigulliovino. This guarantees a high level of quality and a wide range of styles going from the small "natural wine" producer to the big winery, all under the common flag of "good wine".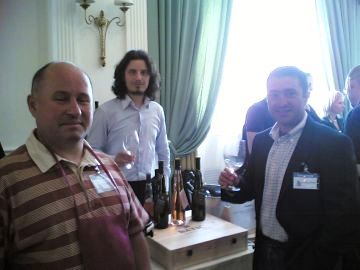 ( Tomaž Sršen, Batič and Thierry Usseglio )
My role in this happening was to internationalize the event and bring in some european wineries. I managed 3 slovenian and 2 french wineries. For Slovenia I contacted my friend Tomaž Sršen; formerly the bassist for Slovenia's most famous rock band, he is now Slovenia's top wine and food critic. He came to Rapallo with Ščurek, Batič and Joannes. I happen to go to Slovenia often for my work, so I am somewhat familiar, thanks to Tomaž, with the excellent wines of this small country; I hope that for the next fair we can get Edi Simčič e Valter Mlečnik to participate.
Ščurek presenta his wines from the Goriška Brda area, I am impressed by his Kontra, a white wine macerated for 7 months on the skins, a true "noir de blancs" that, unlike many attempts at going back to pre-war winemaking techniques, is not marked by excessive aromas of "marc", I would think that this wine would be ideal for trying very difficult food pairings, with strong or spiced foods (olives, sardines, artichokes, spinach salad with, yes, vinegar).
From nearby Vipava valley comes Ivan Batič with his "natural" wines, I particularly like his Pinela, from a local grape, but I also discover his 1999 Chardonnay, rich and sunny, comparable to the warmer areas of the Maconnais, and more likely to the rare whites of Beaujolais.
Hiša Joannes comes from the far east of Slovenia, near Maribor, with some excellent Rizling.
For the French winemakers it was not easy to get anyone to participate, knowing that the giant Vinexpo fair of Bordeaux is in 2 weeks' time, but 2 winemakers decided to come: Domaine Pierre Usseglio and Château Mas Neuf. I hope that next year I can bring a dozen europeans…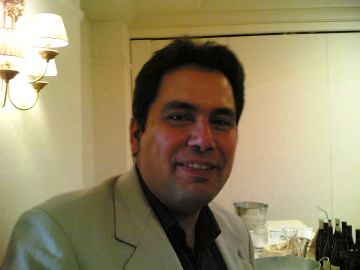 ( Luc Baudet of Château Mas Neuf )
For Mas Neuf, Luc Baudet presents his Compostelle cuvées both in white (roussanne with a touch of viognier) and in red (typical southern blend of grenache, syrah and mourvèdre). In this relatively unknown AOC Costière de Nîmes the wines combine the characteristics of the Rhone and Languedoc wines. I very much liked his Armonió 2006, pure syrah. His simpler Vin de Pays wines are also interesting, very satisfying at under 6€.
Thierry and Jean-Pierre Usseglio, sons of Pierre, present their fabulous Châteauneuf-du-Pape 2004 and 2005, both based on grenache from 60-year old vines with a little cinsault and mourvèdre, and for the 2005 about 10% syrah. These wines are a monument to the extraordinary structure of a great grenache. I also tried the Châteauneuf-du-Pape Cuvée de mon Aïeul 2004, pure grenache from 100-year old vines with yields under 25 hl/ha, the wine is still young and promises a great future, while right now it is a nice concentrate of elegance.
It is clearly impossible to taste all 400 wines present at the TGV Meeting and live to write about it… Plus I gave up on writing notes years ago (I do not want wine to become "work" for me), so of all the good things that were available I will write about those that left a lasting memory:
– Le Fraghe of Matilde Poggi, her Garganega has a nice freshness and proves that this grape from Garda can be used to make serious wine (ageworthy?) suitable again for nice food pairings.
– Ca' Rugate, tasted just after Le Fraghe, more Garganega, a more technical wine with subtle flavours.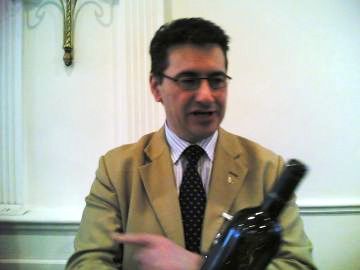 (Giampiero Sappa ofAlbino Armani)
– Albino Armani, where Giampiero Sappa presents the interesting Foja Tonda, a rare grape from the Monte Baldo, and a very ripe sauvignon from Vallagarina. Surprise, finally I get to taste a Müller-Thurgau worthy of attention, usually these grapes make undrinkable wine, this one had ethereal aromas that inspire me to more food pairings… (I have food on the brain this week)
– The gewürztraminers of Josef Brigl (Windegg) and Tramin (Nussbaumer) are good, but I just cannot stop thinking of Alsace and so I end up preferring the excellent Lagrein reds.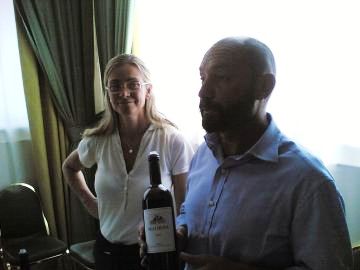 ( Elena Pantaleoni and Giulio Armani of La Stoppa )
– La Stoppa where Elena Pantaleoni pours me her Vigna Volta passito of malvasia from the Colli Piacentini, a nice wine with the colour of an old Sauternes and the flavours of an old Pedro Ximénez, makes me think of chocolate, this may be heresy but a tiramisù made with this wine would be incredibile. Better drink it instead… 😉
– Poggio Argentiera, unfortunately Giampaolo Paglia is not there but his Capatosta proves itself again to be one of Tuscany's most pleasant reds…
– Buranco, the Sciacchetra' of Kurt Wachter is good, I just hope that the new owners will keep up the good work.
– Francesco Candido and Cantina Due Palme, two winemakers from Puglia with good Salento reds and, strangely, chardonnay and sauvignon…
– Benanti, a surprising white from Mt. Etna rich, mineral and well balanced. Also surprising, a great red from the planes of Pachino, better known for growing cherry tomatoes.
– Cos and Gulfi, very good even though I was a little distracted by the crowd that had gathered there.
– Tenuta Quaranta, moscato passito very deep and balanced, without that excessive muscat aroma that can so easily overpower, no heavy smells, instead we have delicate scents of yellow fruit and quinces, a delicacy.
A few food stands are presenting cheeses, oils and sausages, but nothing tops the chocolaty ganache that Claudio Pistocchi makes, I wanted to match it to the Pierre Usseglio's Châteauneuf-du-Pape but never got around to it…
Again the bloggers and usenet types were all there, and so again Giampiero Nadali di Aristide, Terry Hughes of Mondosapore, Mirco Mariotti of Blog&Wine, Sandra Salerno of untoccodizenzero, Maria Grazia Melegari of Soavemente blog, and finally the it.hobby.vino newsgroup regulars Oigroig, Marcolandia, Max-QM of Quintomiglio , Tolux and Luk from thewineblog.net . Congratulations again to Filippo Ronco for organizing my favourite wine event, and for making this date coincide with the birth of your beautiful daughter Viola… a busy day for you!