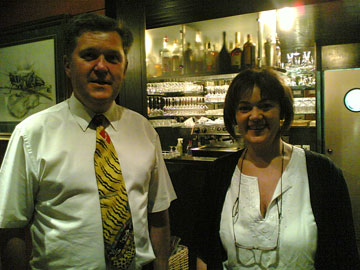 Traveling for work is much more enjoyable if you can fit in some gastronomic discoveries. This week in Slovenia I took my friends Harry and Vondelle to the Gostilna Pri Danilu, in Reteče near Škofja Loka, close to Ljubljana. I had written a few notes on my last visit there about a year ago on this blog. This time my friend Tomaž Sršen was away in Munich where he was attending a concert, so while enjoying my dinner he sent me an SMS from Munich: "Aerosmith rocks!".
I am not sure if going to a place twice qualifies one as a "regular", but that is certainly the way I felt when the Čarman family greeted us at the door. The new sommelier, Gregor, took care of us expertly as we navigated through the excellent gastronomic menu, theoretically a 5 course meal, but in fact three extra smaller dishes complete this generous panorama of traditional Slovenian cooking reinterpreted in a contemporary key. Of course, each dish is accompanied by a glass of Slovenian wine.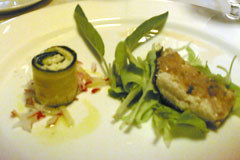 We began with a red Teran sparkling wine by Jazbec made from Refosco grapes in the Karst area, quite surprising to have a sparkler with cherry aroma, well balanced.
The first appetizer is a duet of rolled zucchini and trout well matched to a 2004 Malvazija by Korenika-Moškon, from the Istrian coast, the wine has a lot of character and rounds of the strong flavours of the delicious trout.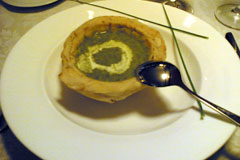 Next is nettle soup in a bread cup, and of course you could eat the cup if you wanted to (and had the room for it). No wine is recommended but the Malvazija keeps performing well.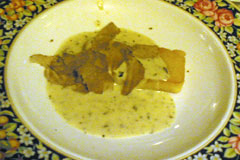 As I already know this dish, the loška mešta (polenta) with black truffles is served to my friends, while I have the asparagus and spinach gnocchi. Gregor suggests we drink a 2003 Chardonnay from the Vipava valley by one of my favourite winemakers, Mlečnik, who likes to make whites the old way, macerated on the skins, almost letting the wine make itself but never letting it get out of control, a tannic white of the kind that I have been calling "noir de blancs" for the last few years, with rich light amber colour and nice apple flavours.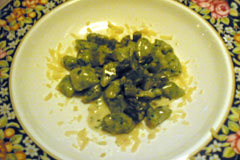 An elderberry sorbet with lemon zest is served to prepare us for the main dish, a beef slice with a young goat cheese sauce and thyme and vegetable mashed potatoes. I did remark to Gregor that I would have preferred to have the cheese on the side, however that is my own personal dislike of sauces on meats, and most people, especially here in France, would disagree with me. The cheese reminded me of the light fresh "tome" of provence prepared in the ancient way, with rennet as opposed to the industrial lactic method. Very good with a 2003 cabernet sauvignon Selekcija by Marjan Simčič matured in new oak in the Goriška Brda wine area.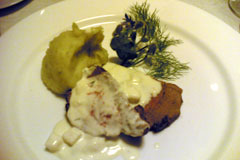 The dessert was exceptional, one of those trendy chocolate desserts that do not cook through and through and release their hot melted chocolate interior on first attacking them, yet the whole thing here was covered in toasted pumpkin seeds, and right next to it I discovered a parfait made with pumpkin seed oil, a very strong tasty specialty of the Styrian area of Slovenia. A glass of porto forms the classic match with the chocolate.
As we finish our meal, Gašper Čarman dropped in to say hello. Since he started his online wine business evino two years ago the business has boomed and he can no longer spend as much time managing his parents' wine cellar, but he does show up regularly.
If your travel brings you to Slovenia you should not miss Vesna and Dušan Čarman's restaurant, the food and wines are excellent and the service highly competent. Thanks again!