Barcelona: Gresca Restaurant
Mike Tommasi
2009-02-26T12:22:51+00:000000005128200902
Restaurant Reviews
Last week I was back in the Catalan capital for the annual Mobile World Congress. The evenings become an opportunity for magic culinary discoveries in this city so rich in food culture. Once again I am guided by the advice of my friend Joan Gómez Pallarès, linguist and author of the blog De Vinis and connoisseur of all things good in Catalonia (and elsewhere…) .
It is not easy to find a table on Monday evenings in Barcelona, but on Monday 16 February 2009 I found a table at Gresca (c/ Provença 230, Barcelona – Eixample, +34-934516193). The minimalist website does not mention opening days, but it seems that the place closes on Saturday noon and Sunday. The chef Rafael Peña presents a very interesting combination of traditional and contemporary cuisine, focused on the accuracy of the cooking and presentation rather than on molecular techniques … The beauty of the dishes is impressive, especially entries like "Anec fumaţ amb llagostins ", a lobster wrapped in thin slices of smoked duck in order to imitate the shell of the crustacean, delicious and well presented. Another is the "Carpaccio de Pop amb butifarra negra ", a mosaic of white slices of octopus on a background of black pudding with a frame of herbs. For the photos I "borrowed" some images from the excellent photo-blog Encatadisimo because my Blackberry decided to empty its batteries for the day…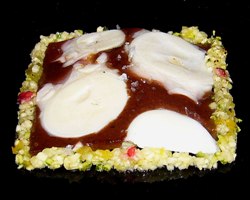 To accompany this meal we chose a Portal del Montsant, Brunus, DO Montsant, Blend 2006, a blend of Syrah, Grenache and Carignan. At 13 € a bottle, we are far from the markups of 200-400% practiced in France! For this price, we have a very nice wine with an intense nose of red berries.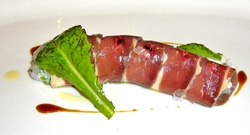 For the main course I enjoyed the "Colomí amb gingebre", succulent pigeon with ginger served with a reduction of its juices, perfectly cooked. My only comment, it would have liked to see even a symbolic presence of the plant kingdom on the plate.
I ended the meal with a "Coca de Roquefort amb poma i litxi", a thin wafer covered with Roquefort and lychee, with a green apple emulsion.
Prices remain at a level rarely seen in France for such elaborate cuisine, first courses are around 10 €, main dishes € 20 and desserts around 6 €.